A little Bit about Asian Funeral Service ( Leicester )
Dinesh Patel Has been caring for bereaved families
for over 30 years. He has a vast knowledge of the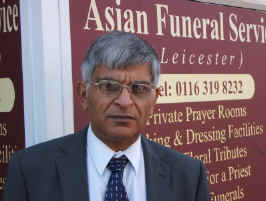 cultures and customs of Leicester and is dedicated

to taking care of the funeral arrangements for you.

Mr Dinesh Patel

Asian Funeral Service ( Leicester )

260 Loughborough Road

Leicester

LE4 5LH

Tel 0116 319 8232 (24 hour service)

After a lot of consideration and careful planning, He created which is

probably the best specialist funeral home in Leicester.

"We have designed the funeral home to feel warming. I wanted people to feel

comfortable and at ease, like being at home." he says.

We have a comfortable reception lounge.

A large private prayer room.

Modern wash and dress facilities.

He is so proud of the facilities that he invites anyone

to come and see for themselves.

He says that, " We have no need for open days here,

other funeral homes clean and tidy everything up on

the odd day for the public to see. We are so proud of

our premises that anyone is welcome at anytime to

see for themselves."

Asian Funeral Service Ltd is a trading name of P A Funerals Ltd

Registered in England Company 06953697

, 21 High View Close, Hamilton, Leicester, LE4 9LJ

For Direct Cremation, funeral services or funeral directors in Leicester postcodes. LE1, LE2, LE3, LE4, LE5, LE6, LE7, LE8,

LE9, LE10, LE11, LE12, LE17, LE18, LE19, LE67

Simple funeral service from £ This price does not include disbursements.

Basic funeral service from £

Direct Cremation from £

Simple Funeral, For the best and cheapest funeral in Leicester.

Asian Funeral directors Leicester.

Asian Funeral Service Leicester.