Sikh Funeral ( Antim Sanskar )
In Sikhism a funeral ceremony is called "Antim Sanskar", or celebration of the completion of life.
Rather than lamenting the passing of an individual, Sikhism teaches resignation to the will of the
creator, emphasizing that death is a natural process, and an opportunity for reunion of the soul
with its maker.
The Final Moments of Life in Sikhism
In the final moments of life, and at the time of passing, the Sikh family encourages their ailing loved
one to focus on the divine by reciting "Waheguru*, or suitable passages of scripture from the
Guru Granth Sahib.
In Sikhism, after a death occurs, funeral arrangements are made by the family which includes
conducting a Sadharan Paath, or a complete reading the Guru Granth Sahib. The Sadharan
paath is carried out over a period of ten days following the funeral ceremony after which formal
mourning concludes.
Preparation of the Deceased
The body of the deceased Sikh is bathed and attired in clean clothing. The hair is covered with a Turban or
traditional scarf as usually worn by the individual who has passed away.
The Panj Kakkars, or five articles of faith worn by a Sikh in life, remain with the body in death.
They include:-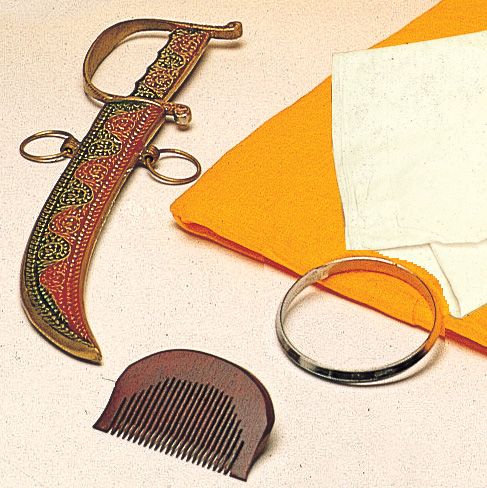 Kachhera, an undergarment.
Kanga, a wooden comb.
Kara, a steel or iron bracelet.
Kes, uncut hair (and beard).
Kirpan, a short sword.
Cremation
Cremation can be arranged locally or abroad if needed. We can repatriate a person deceased to
Punjab if needed. This is usually Amritsar or Delhi Airport. From there we can arrange for A funeral Director to transport the deceased to the chosen destination address by road.